Yesterday, I cycled 13km from Richmond Hill to Markham. Actually I didn't even know where I was going, all I knew was that I was gonna cycle for 4-5 hours with my ex-schoolmates (they graduated last month) to a charity event. It was a surprise that it turned out to be a bazaar.
Unfortunately my mood turned dark within the first five minutes of arriving because I found out that my schoolmate didn't bring locks so we had to carry our bicycle wherever we went. That pissed me off greatly, I was ticked off the whole time I was there. I was mostly angry at myself for hanging out with a person who was an attention-seeking, compulsive liar just so I could exercise. You will see why I want to exercise so badly later.
Grimness aside, I explored the area and immediately a stall sign caught my attention. MANGO STICKY RICE! Yayyyyyyy!~!~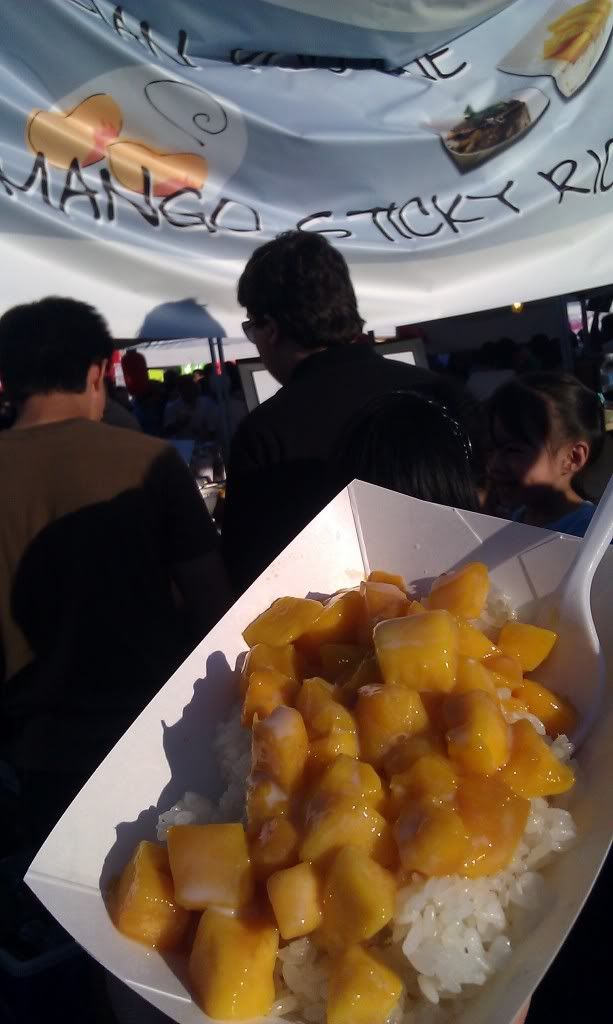 It was C$3.50 and it looked really good. The mango was sweet and soft but the rice was hard and dry. There wasn't enough coconut milk in it. I shouldn't have had high expectations of the Asian cuisine in Canada but you can't blame me since they were all ASIANS. Seriously, the vendors there had mainly immigrated from Hong Kong, Taiwan and China so you'd think they'd know some traditional culinary skills to make good, authentic Asian food.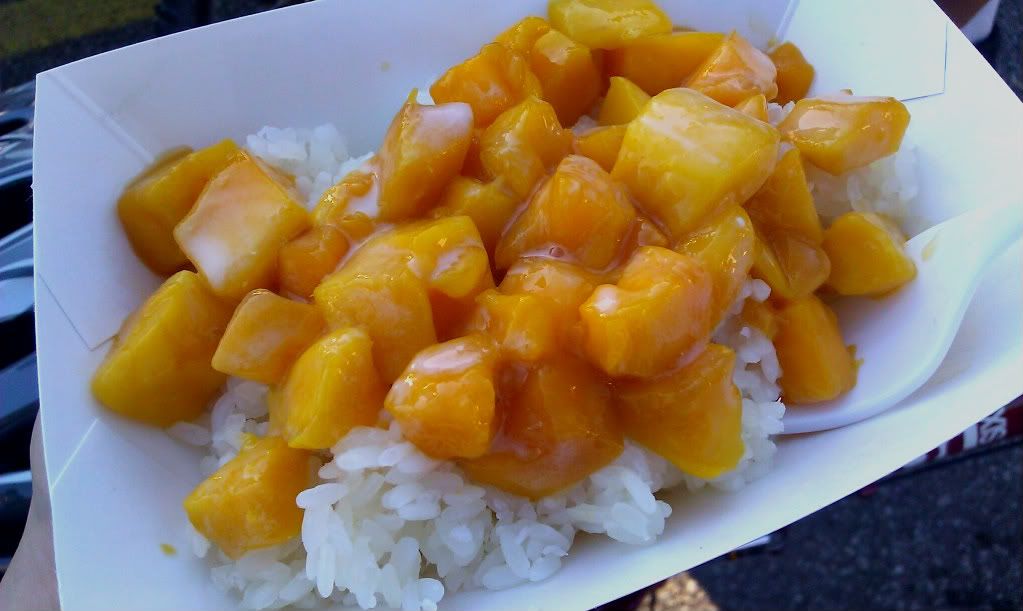 Anyways I walked over to the side and waited since my ex-schoolmates wanted to continue to
obstruct foot traffic
--oh, I mean... have fun playing the games at several stalls that offered catching tadpoles (or guppies) with sifts, winning Pokemon cards, shooting arrows and such.
I was standing and looking around with a bicycle in front of me. I was worried that I would be seen by friends since I looked horrible after cycling for so long and wore casual 'sporty wear'. I DID NOT KNOW WE WOULD BE GOING TO A NIGHT MARKET. When my ex-schoolmate said "charity event" I visualized an indoor warehouse like a food expo. I was wrong, I shouldn't have assumed but it was all I could do since my ex-schoolmate withheld information on purpose. (This incident had made me decide to never go out with this person again.)
I did enjoy being in a different town and being back in a
pasar malam
after leaving Malaysia for nine months. I never liked the pasar malam at Taman Connaught though, actually I don't understand why people like going to crowded places at all. However, I did love eating in mamaks and buying food from special pasar malams that sold more rare items of fried goods.
What was killing me the whole time was that I didn't know the name of this event and I had an urge to approach every volunteer who were dressed in purple that I saw. I didn't want to be a bother and I didn't wanna embarrass myself by revealing that I went to a charity event that I didn't even know the name to.
After standing for 10 minutes or so I crossed the
pond
sea of people with no direction or knowledge of where I was going. The stall I passed by selling Malaysian food had great business *pumps chest up with pride*
I ended up on the other side where the stage was located. It was only at this time when someone was giving a speech that I found out it was called Night It Up! which is an annual event organized by youths aged from 15-27 but the most impressive part was that this was its 10th year running. Kudos!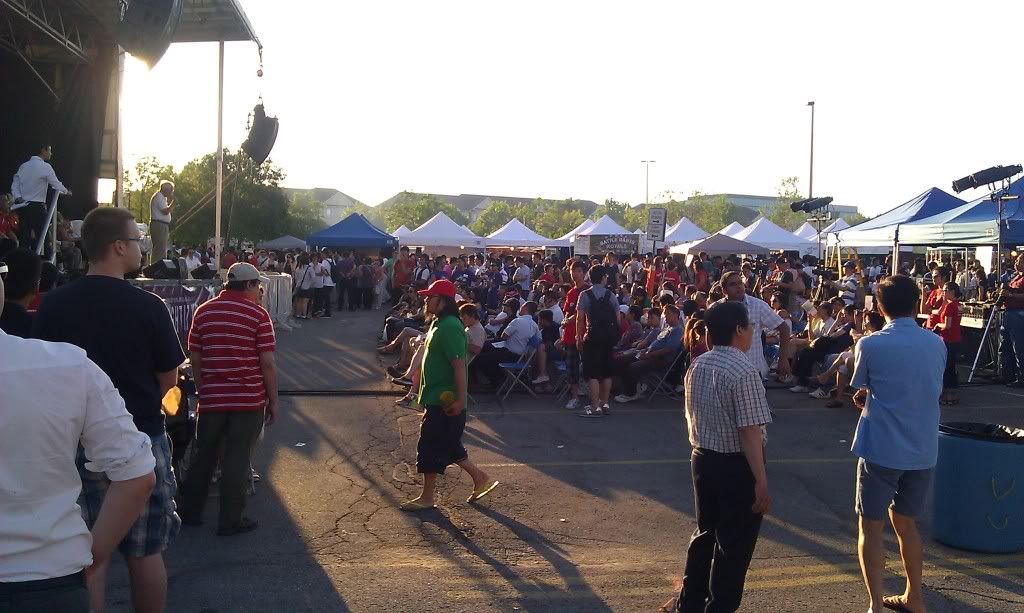 Look at all the people! In the booklet it says that a total of over 60,000 patrons come to this two-day charity event.
I would like to thank a kind Hong Kongese man who offered to look after my bicycle to let me roam around for half an hour. I denied his help at first because it was a borrowed bicycle and if it was stolen I'd had have to pay a lump sum for it. Because of him, I was able to enjoy a Taiwanese/Hongkongese drink. I ordered Grass Jelly Papa (C$4) which had grass jelly cubes, mini sago balls, and coconut milk.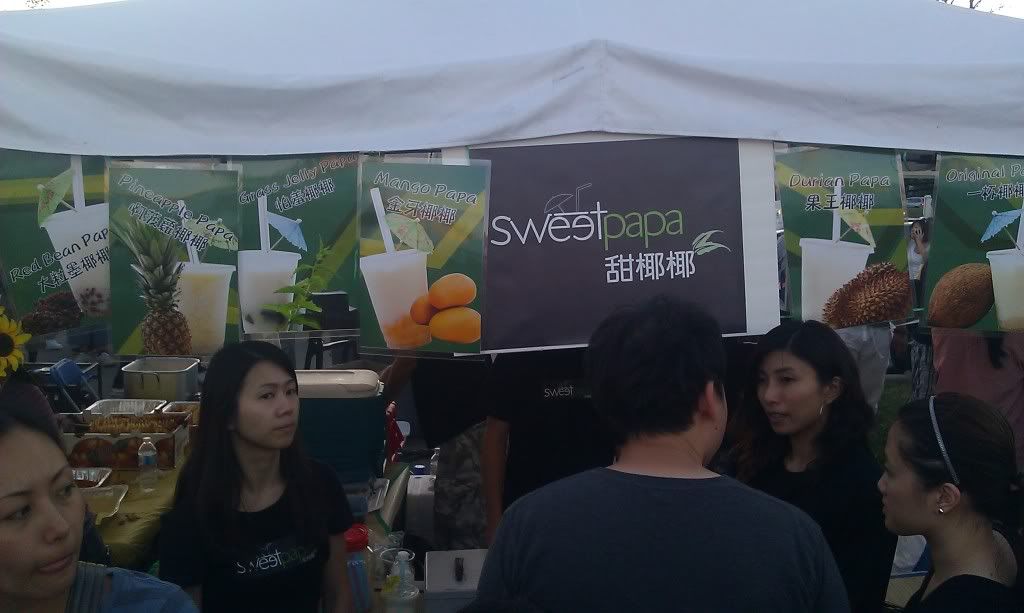 Walking back took much effort but I was content that I wasn't carrying a bicycle since the number of people peaked at 8:30pm and it would have taken twice as long to move.
(Holy COW.)
I love that Sweet Papa put an umbrella on all their drinks, it makes the C$4 more worth it. LOL. Ya, now you see how much I've changed. So I'm desperate for any opportunity to exercise now. I accept all the offers from my friends to jog or cycle. I MUST... I MUST.
We left at nine o'clock and traveled 13km by bicycle back to Richmond Hill. It took us only an hour and a half going back as suppose to the extra hour it getting to Markham Civic Center because an ex-schoolmate who didn't cycle for several years called his parents to pick him up from Markham Theatre rather than cycle back with us.